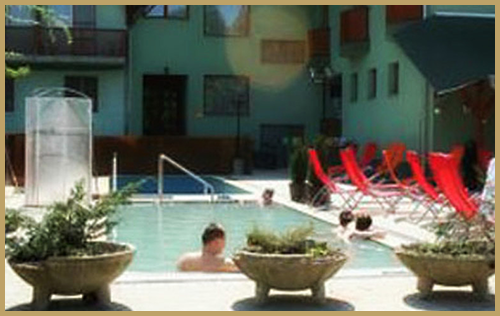 Our open-air pools filled with Zsóry medicinal water and our various saunas are the ambassadors of complete relaxation. The commitment of our expert masseurs, our various therapies, massages and baths insure prefect refreshment. The wellness and spa unit of Hajnal Hotel on a surface area of almost 120 m2 serves the complete recreation, regeneration of the guests with 2 outdoor medicinal pools, 1 whirlpool bath, 1 steam cabin, 1 infra sauna, 1 Finnish sauna, 1 immersion pool and 1 salt chamber where they can unwind work stress and relax their tired muscles.
Medicinal pools – Baths - Heat and light therapies – Fitness
Our immune system is exposed to innumerable attacks every day therefore it is compelled to defend itself. Taking sauna is relaxation and refreshment and rest, which helps us preserving hour health at the same time. It has a beneficial effect to the body, spirit and psyche that is why sauna is also called the temple of health. In our sauna world it is not only relaxation and recovery that are guaranteed but the defending ability of the body can be improved as well. Taking sauna regularly opens the new horizons of zest for life and quality of life. Its further effects on health: it strengthens the heart, relaxes from stress, rejuvenates the skin and is also suitable against insomnia. In order that you can enjoy the beneficial effect of the sauna, tune yourself to heat then select one of the cabins of various temperatures.
Finnish sauna – Infra sauna – Immersion pool - Salt chamber - Solarium
In our hotel everybody can find the opportunities of relaxing and doing sports.
Our conditioning room is well-equipped with machines such as: massage machines, new cardio machines, running machines, stair-walking machine, rowing bench, belly bench, room bicycles, stall-bars, room trampoline, fit-ball, etc...
All of the guests of our hotel can use it unlimitedly.
Bank holiday
The prices per night are not applicable in festal periods.
Zwischen zwei Urlaub:
26-30 Dezember
Silvester:
Dezember -01 Januar
Our hotel is closed on the 24th and 25th December!
__________________________


Mezőkövesd időjárása
Tovább...
__________________________
__________________________
100% a természet ereje! Tovább...
__________________________
Cashback Pénzvisszatérítés minden vásárlás után*
Részletek ↵
__________________________